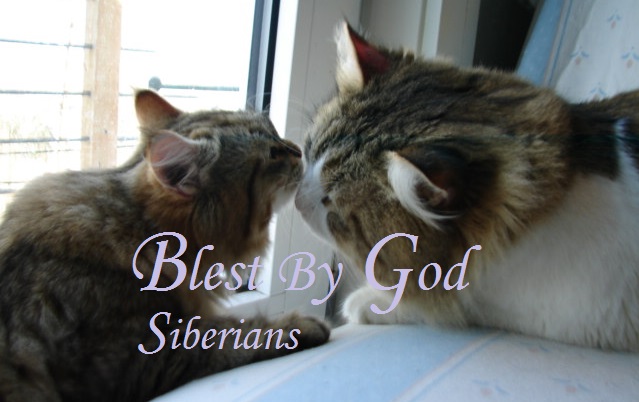 Siberians from Russia
Born in Russia, brought home to Tacoma, Washington

Located in the Seattle area - Registered with TICA


Siberians are a natural breed, and as such, they are hardy and healthy.

Your Siberian will become a distinct member of your family.
I find mine to be full of grace and charm. They are cute and funny sometimes, yet always wonderfully beautiful, with poise and dignity. These cats are known to show fondness and affectionate to the family that they are part of, similar to a loyal dog. They are magnificent cats, connecting their eyes with mine, to let me know how special they think I am, too.

An important and unique attribute of the Siberia cat breed, is their lower allergen levels,
such that many with allergies can live comfortably with a lovely Siberian.

Blest By God Siberians has no kittens available.


A young adult female is available.

Shown below:






Born Dec. 14, 2019

Abigail

3/4 Siberian girl
with curly LaPerm gene

This is a unique cat with a Siberian nature and a curly, low-shedding coat.
Her mother is shown just above,
and to the right.
Abigail has her mother's gentleness and sweetness, along with a solid build and natural coloring.

Her hypoallergenic quality is unknown,
she is returnable, if purchased.

$1100

Sweet confident girl,
playful, curious, engaged.
Abigail has a curly low-maintenance coat which requires no brushing, and is low shedding.
She is heavy and strong, active and playful, and she is spayed.

Abigail greets me at the door,
and sleeps at my feet,
like a small dog.

Abigail would be a great personal companion, or family pet. She has lots of personality to go around.












---
Blest By God Siberians
Beautiful cats and kittens, prayed over and blessed.
Raised in a quiet home, with tender care.
Seattle - Tacoma area
Contact: 206-793-7117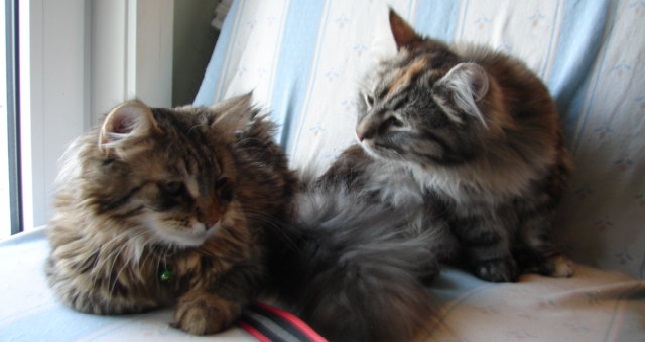 Siberian cats are truly a blessing!


Let everything that has breath praise the Lord.
Praise the Lord! Psalm 150:6

---