Blest by God Siberian kittens in their new homes
Photos and testimonials from kitten owners!
---
Apricot - "Sibirochka"

Went to her new home in July 2019

"Thank you so much! We love our kitten!"
---Natalia M., Snohomish, WA
Butterfly - "Nimue"

Went to her new home in August 2019


"Nimue is doing really well, and we are just so incredibly in love with her! She still is so quick to purr and is so loving. She's gotten even more feisty now that she feels at home, and it is SO funny! My husband and I laugh so hard on a daily basis and she has already brought so so much joy into our lives."

"We talk all the time about how we can't believe how lucky we are to have her! And it's clear she is fond of us as well, as she always has to nap between both of us on the couch and cuddle with both of us before bed/when we come home/etc."





"Our kitten Nimue is the best little companion we could've ever asked for. She is incredibly sweet, funny, and well behaved (as much as a kitten can be)!
It's clear she came from a loving environment and we loved working with Alea, who is very kind and helpful and obviously loves her cats very much. We are very happy with our experience and even more happy with our new cat!"
---Kees W., Puyallup, WA
Catalpa - "Yuri"

Went to his new home in September 2019


"Yuri is such a gem. We love him so much!

His personality is the best we ever could have hoped for. He is incredibly affectionate and cuddly, always in the same room as we are and greeting us at the door when we come home."






"He's playful and silly, absolutely loves laying in the sink and drinking from the faucet. So much so that he has started to expect we'll turn it on for him, he lays there waiting to drink.

He is huge, close to 5 pounds already. Sometimes we forget he's a kitten! He spends most most of his time on his back and loves his belly rubbed, can't get enough of it. He has some gorgeous colors developing as well, lots of golden brown"

---Lauren V., Seattle, WA

When Yuri was a baby,
he learned to lay in the sink,
because Momma laid there
to get a break from the 7 kittens!
(Baby Yuri shown in the sink - below)

Blest By God Siberian Cattery
Beautiful cats and kittens, prayed over and blessed.
Raised in a quiet home, with tender care.
Seattle - Tacoma area
Contact: 206-793-7117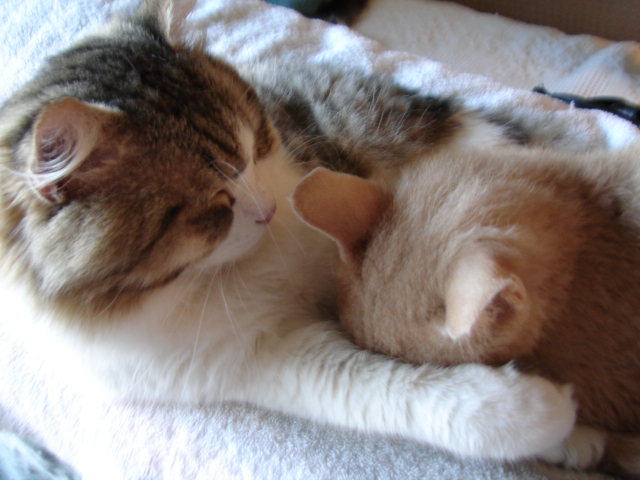 What a blessing to have a special friend.




---